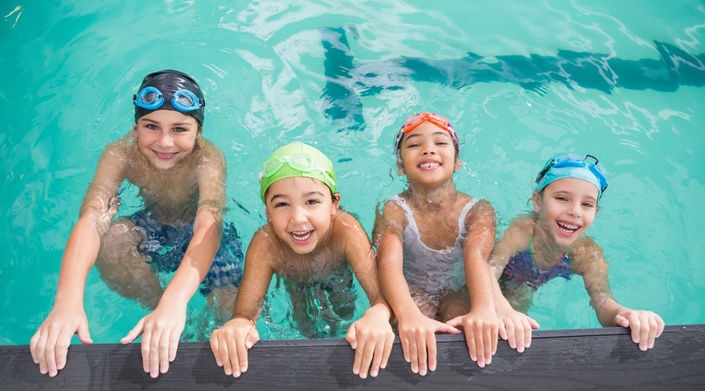 Teach Your Kid to Swim in 5 Simple Steps
W H A T I S K I D S L O V E T O S W I M ?
KIDS LOVE TO SWIM IS A VIDEO COURSE, SIMPLIFIED FOR PARENTS TO TEACH THEIR OWN CHILD TO SWIM.

IT'S DESIGNED TO BE COMPLETED IN 2 WEEKS OR LESS, BREAKING DOWN THE BASICS IN 5 SIMPLE STEPS.
TEACHING YOUR KIDS TO SWIM IS
EASY
AFFORDABLE
&
A FUN BONDING EXPERIENCE.
WHEN YOU JOIN THIS PROGRAM YOU'LL RECEIVE LIFETIME ACCESS. WE'LL TEACH YOU HOW TO TEACH YOUR CHILD TO SWIM (DON'T WORRY, IT'S ALL THROUGH VIDEO) AND SET YOUR CHILD UP FOR A LIFETIME OF SAFETY AND CONFIDENCE AROUND THE WATER.
---
WHY TEACH YOUR KIDS TO SWIM?
You teach your kids their ABCs. You give them healthy snacks and plenty of sunshine.You show them how to ride a bike and cross the street.
You teach your kids so many essential life skills when they're young. Swimming should be one of them!
You've heard the horror stories about kids that drown because they don't have the skill or confidence they need around water. Some are lucky, but sadly, most of them aren't. Don't become part of that tragic statistic.
THE CENTERS FOR DISEASE CONTROL SAYS:
Two children die every day from unintentional drowning
Drowning ranks 5th among the leading causes of unintentional death in the United States
The main factor that influences drowning risk is the lack of swimming ability
Your kids have teachers or coaches for every skill from music to martial arts to running. They can make mistakes in any of those endeavors, but if they trip while they're running, they'll get a scraped knee. If something goes terribly wrong, they may break a bone. But if your child makes a mistake in the water, the consequences could be much more devastating.
There's a simple solution, and you don't have to hire an expensive coach to get amazing results!
When you join this program, we'll teach you how to teach your child to swim in just 5 SIMPLE STEPS! Spend 14 days with us (don't worry, it's all online!) and set your child up for a lifetime of safety and confidence around the water.
No one thinks it will happen to them, but it only takes a second of distraction for a child to slip underwater without being noticed. Distraction doesn't necessarily mean you're looking at your phone. It can mean you're getting a snack for a sibling. Putting on sunscreen. Talking to a friend.

It's just not possible to keep an eye on your child every moment they're around water. Distractions occur because someone will get hungry, or you'll get asked a question, or you'll turn your head to look at something. That's all it takes, because that's how fast a child can slip under the water unnoticed.
But your pool has a lifeguard, you're fine! Right?
Not necessarily.
Lifeguards save lives and we're grateful for their service and skill! But even they can't watch every child at every moment. And they won't be at home pools. Or at the lake. Or on your boat. The best safety measure you can take is to teach your child how to swim so you never encounter a life-threatening situation.
Imagine total peace of mind when you go to the pool. Imagine going to the beach and actually relaxing. Imagine boat trips that are fun for the whole family.
It's possible!
Tragedy can strike in a matter of seconds, but if you equip your kids with the skills they need to stay safe around water, you won't have to worry. Whether you're at the beach, the pool or on a boat, you can feel confident that your children will stay safe and happy because you've given them the gift of learning how to swim.
Imagine the memories you'll make!
WITH THIS ONLINE PROGRAM, YOU'LL RECEIVE:
14-DAY INSTRUCTIONAL COURSE
EASY-TO-UNDERSTAND VIDEO TUTORIALS

DEMONSTRATES DIFFERENT LEARNING STYLES LIFETIME ACCESS TO EASY-TO-UNDERSTAND VIDEO TUTORIALS

LEARN FROM AN AMERICAN RED CROSS CERTIFIED PROFESSIONAL WATER SAFETY INSTRUCTOR

SELF CONFIDENCE AND A LIFE SAVING SKILL

PRINTABLE PDF

$600 VALUE FOR $199!

BENEFITS OF THIS PROGRAM

CHILD LEARNS AT THEIR OWN PACE

NO SCHEDULING CONSTRAINTS

PEACE OF MIND KNOWING YOUR CHILD CAN SWIM

ONE PRICE FOR THE WHOLE FAMILY (NO ADDITIONAL FEES)
Swimming isn't just a sport. It's an important life skill that every child needs!
For only $199 you can teach your child how to swim like a pro with 5 simple steps—in just 2 WEEKS OR LESS.
TAKE THE FIRST STEP TOWARDS STAYING SAFE AROUND THE WATER.
---
Parents Love Kids Love to Swim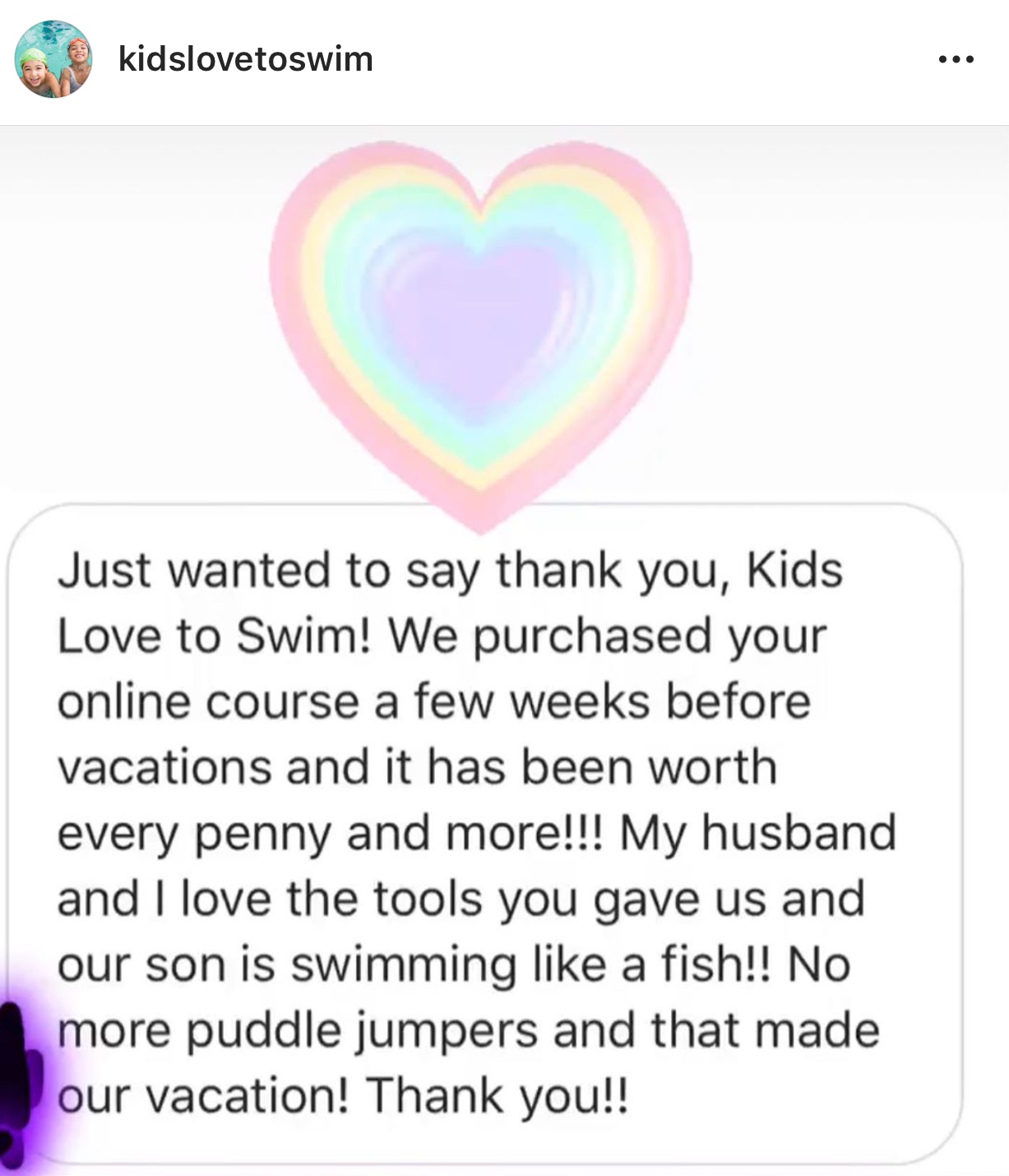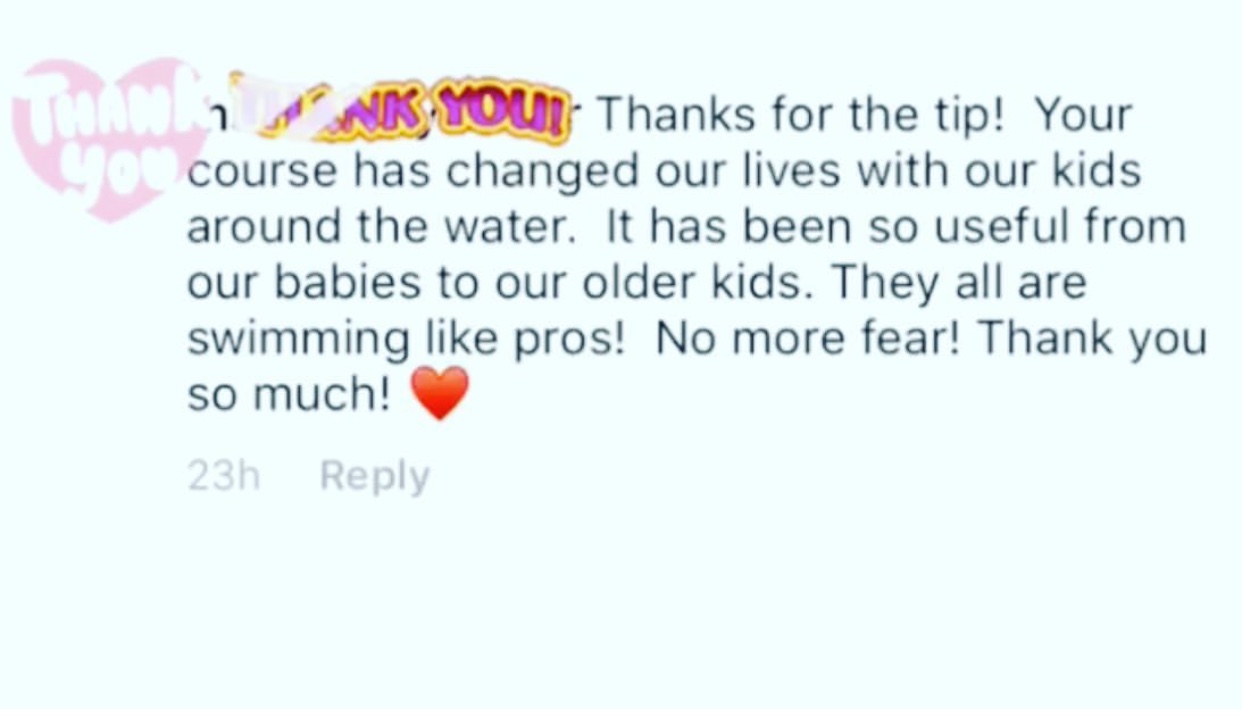 "Harper age 3 and Bobby age 7. We purchased Kids Love to Swim Course because we wanted them more comfortable in the water and to feel secure and to be honest my husband and I had fear around the water. We learned how to teach our kids basics like blowing bubbles, hand motions and strokes, and how to float on their backs. The tools in this course got our family comfortable being in the water, and also our kids have really mastered the course material in just 2 week! We overall were more than pleased and got more than our money's worth. Josh does the most amazing job at communicating in these lessons and it gave my husband and I confidence and love for the water. " -Kate and Tim

Your Instructor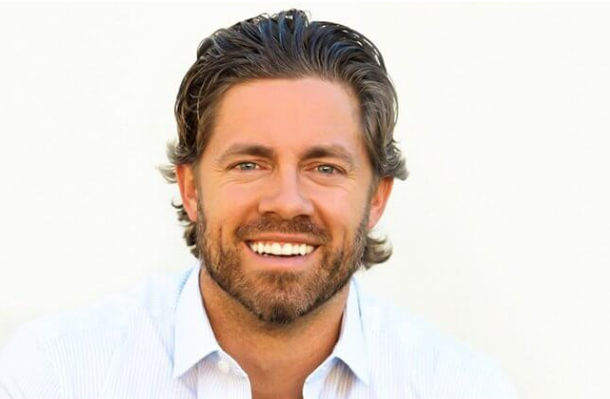 I was born In Kentucky into a family of lifeguards and grew up around the water.

I love the water and think water makes everything more fun. Some of my best memories revolve around water, beaches, lakes and pools.

I started out lifeguarding in high school. On multiple occasions I had to jump in the pool and pull out a child that was struggling in the water, usually trying to get back to the side, or once or twice from falling in.
It was during this time that I became passionate about preventing drowning and became a water safety Instructor through the American Red Cross.

I started teaching private, as well as small group swim lessons when I was 17, and have continued to teach since. I have taught hundred of kids to swim. My students always walk away a much better swimmer, more confident, and with fun memories of swim lessons.

I think in life we all have "ah ha" moments. For me it happend when I was on vacation with my family. I saw a father trying to teach his child to swim. He was visibly struggling to teach his child how to kick correctly and how to get over his fear of putting his face in the water. After seeing this for a few minutes, I went over and asked the dad if I could offer a couple tips. The dad eagerly, and with a look of relief said yes! Within just a few short minutes the child had made more progress then he had the entire hour or so that his dad had been working with him.
THAT IS IS WHEN I REALIZED THAT IF I COULD GIVE PARENTS THE TIPS, TRICKS, AND TOOLS, THAT I HAD USED THROUGH THE YEARS, THESE PARENTS COULD TEACH THEIR CHILDREN TO SWIM AND I COULD REALLY MAKE A BIGGER IMPACT IN THE WORLD.

I have put together my proprietary 5-step process, Teach your kid to swim in 5 simple steps, that I have used to teach hundreds of kids to swim. I have kept it simple and fun so that you can have a great time with your child while also teaching them a life saving skill.

I truly believe that any parent can teach their child to swim and prevent the risk of drowning.
It is my honor to share with you my proven and tested method to teach your child to swim and I know it will not only work, but you can truly have fun while teaching your child.

Lets swim!
Frequently Asked Questions
When does the course start and finish?
The course starts now and never ends! It is a completely self-paced online course - you decide when you start and when you finish.
How long do I have access to the course?
How does lifetime access sound? After enrolling, you have unlimited access to this course for as long as you like - across any and all devices you own.
What age does my child have to be to take this course?
This course is designed for children ages 2 to 1O years old. However, understanding that in some cases kids younger than 2 years old can still learn to swim following the 5 steps. Also, if you have kids older than 1O years of age, the 5 steps will still apply and work. We have used these 5 steps to teach kids as well as adults.